SIZE
OUR RINGSIZES ARE:
XS= 50 S= 52 M= 54 L= 56 XL= 58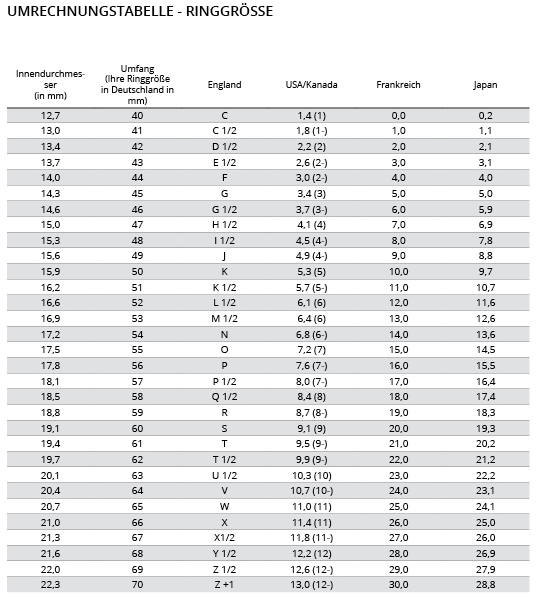 If you don´t know your ring size, please go to a local jeweler to have the measurement of the finger taken you want to wear the ring on.
Or feel free to contact us.
OUR BRACELET LENGTH ARE:
XS S M L XL
size wrist circumference recommended bracelet length
XS 14,5cm-15,0cm 17,0cm-18,0cm
S 15,0cm-16,0cm 18,0cm-19,5cm
M 16,0cm-17,0cm 19,5cm-20,5cm
L 17,0cm-18,0cm 20,5cm-21,5cm
XL 18,0cm-19,0cm 21,5cm-22,0cm
Please measure your wrist thightly with a measuring tape.
SHIPPING AND DELIVERIES
GERMANY
standard DHL 6,00€ 3-5 business days
express DHL 18,00€ 1-2 business days
EUROPEAN UNION
standard DHL 18,00€ 3-5 business days
express DHL 46,00€ 1-2 business days
EUROPA (NON EU, SWIZERLAND, EXCLUDES UK)
standard DHL 30,00€ 3-5 business days
express DHL 65,00€ 1-2 business days
ASIA
standard DHL 46,00€
AUSTRALIEN
premium Versand 68,00€
DUTIES AND TAXES
Orders outside the EU pay the purchase price exclusive of VAT. Depending on the country of delivery, customs duties may still apply for orders outside the EU. Please contact us before placing the order so that we can adjust the invoice if necessary.

OUTSIDE THE EUROPEAN UNION (Switzerland and the rest of the world)
The articles' prices are excluding VAT. Further information on additional custom duties and costs for deliveries to non-EU countries can be obtained here: https://ec.europa.eu/taxation_customs/home_en
These costs will not be reimbursed.

EXCHANGES
It is possible to exchange articles in case they don't fit - as long as the pieces are unworn and in excellent condition.
For most articles, it is possible to manufacture custom sizes upon request.
Please send us the article back. We strongly recommend tracking, yet we don't provide return labels.
If you live OUTSIDE THE EU, please get in touch via email before arranging the return shipping.
RETURNS
A full refund of your return can only be made if the piece is unworn and in excellent condition.
If you would like to return a piece, please contact us via e-mail:
[email protected]
We will email you the Return Documents. Send these along with the item you wish to return.
Please ship your return item with a carrier of your choice. We recommend you to send the shipment with tracking number. All shipment costs for returns must be paid in full by the client.